The Ask
Building on the momentum of our work with Lowe's consumer brand positioning, we were asked to develop a guiding vision for Lowe's Employee Experience.
Approach
Starting in March 2018, we set out to develop a comprehensive understanding of Lowe's Employee Experience as the first step of a large internal transformation program. Our research took many forms:
• 48 one-on-one interviews across corporate, stores, distribution and contact centers
• Lowe's store 'service safaris'
• Cross-functional workshops
• Surveys and psychographic segmentation
In addition to unearthing many areas where the company was failing to meet table-stakes expectations in a competitive labor market, our research unearthed several guiding themes for strategically differentiating Lowe's employee experience. These included the desire for individual recognition, more personalized experiences, opportunities to grow, consistency between what Lowe's says and does, and more transparent communication.
As an output of our extensive research, we generated psychographic segmentation to reflect fundamental mindsets of Lowe's employees and their desired workplace offerings.
I also crafted high-fidelity Personas to help humanize Lowe's diverse workforce and serve as a helpful tool for internal knowledge transfer, design and prioritization.
We leveraged these personas in stakeholder workshops as a way to shift from self-referential thinking, encourage empathy, and ground future-state ideation in real needs. Our team collaborated with Lowe's senior and executive leaders to brainstorm 15 Employee Experience concept "prototypes" ranging from In-Store SME Certification Programs for associates, to purpose-driven sabbaticals for corporate employees, to a company-wide "Builders Bounty" that drives cross-silo collaboration and innovation across the organization.
We'd heard from employees that they'd felt that employee initiatives had felt scattershot in the past, so in the interest of avoiding the same fate we set out to arm senior leaders with a forward looking system for strategic decision making. Collaborating with a core coalition of senior leaders, we created an Employee Experience journey map to model how employees interact with Lowe's over time, and capture their needs at each stage of the employee lifecycle.
The goal was to enable Lowe's to create a shared frame of reference around the "big picture," to inspire cross-functional conversations, and to enable teams to identify opportunity areas, evaluate proposed initiatives, and make better tradeoff decisions.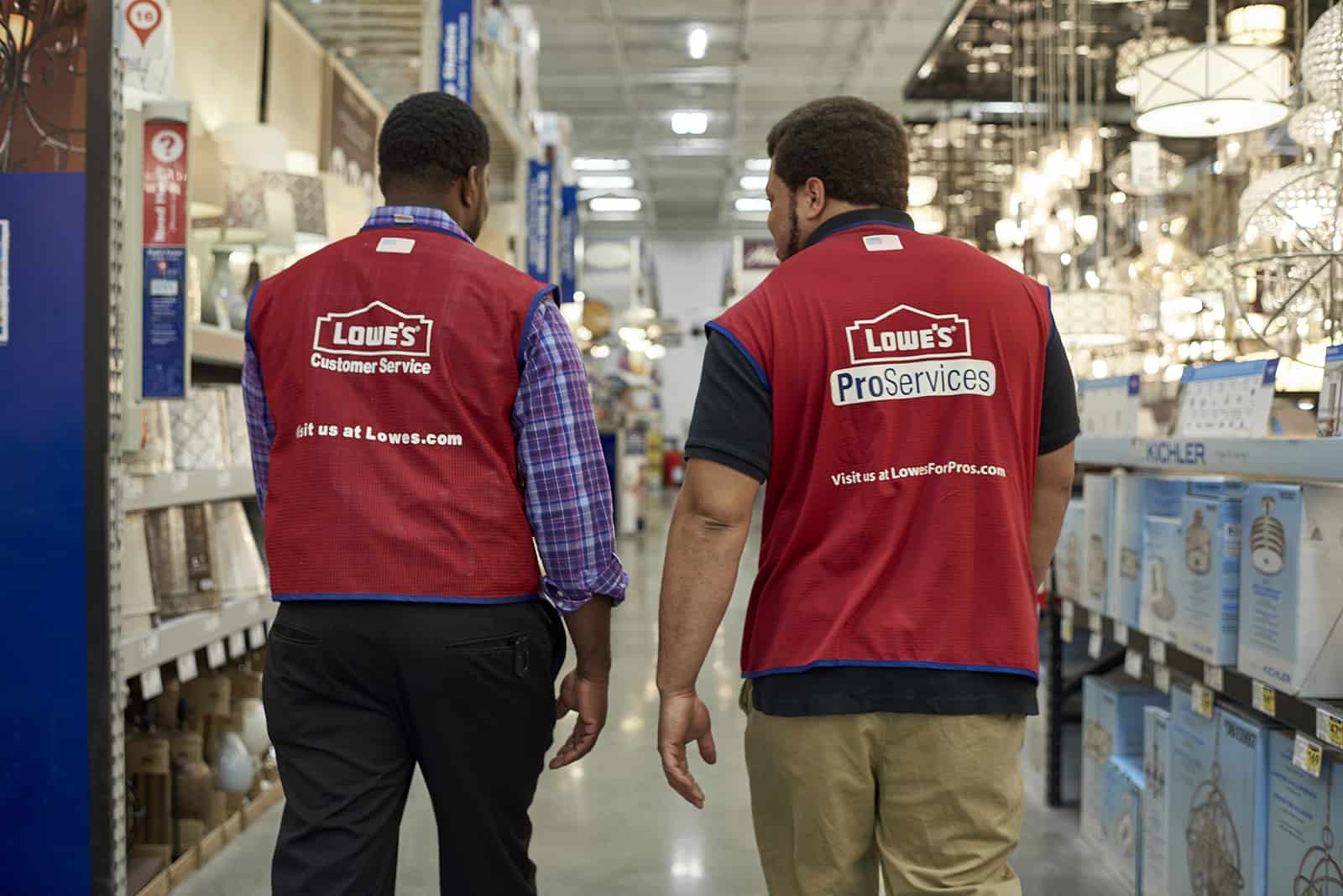 Results
Our work had a swift and immediate impact, empowering Lowe's HR team to begin overhauling its employee benefits offerings to better meet the needs and expectations of its diverse and vibrant workforce.
As just one example, in January the company announced it would be expanding its benefits package for full-time workers to include paid maternity leave for 10 weeks, paid parental leave for two weeks, adoption assistance of up to $5,000, and faster eligibility for health benefits.
One of the most important and valuable outcomes of this work, however, was the introduction of a human-centered lens and design-thinking toolset to Lowe's leadership teams.